Taking Fitness Outside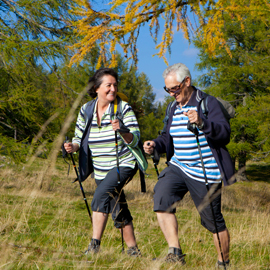 Taking Fitness Outside:
Spring is officially here, and in Florida that means it is only a few more months before the weather starts creeping close to the triple digits again. The trees are coming back to life, birds are chirping overhead and the ocean is calling your name. After getting JSAPA Weight Loss Surgery, there is no reason you can't take advantage of the beautiful weather. In fact, spring time can make it even easier to find time for your physical fitness goals as you find new forms of exercise that you enjoy.
The warm weather is a great excuse to break out of your fitness rut. While the winter might keep you sectioned off in the gym and the short days may keep you inside for long, quiet evenings, the spring and summer are filled with daylight and plenty of opportunity to get out and have some fun.
Here are a few ways that exercising outside can boost your health mentally and physically:
Clear your mind: Exercising outside is shown to rejuvenate the mind and relieve stress.
Boost your immune system: The vitamin D from the sun can improve immune system function, not to mention boost your energy levels.
Reduce germ exposure: As clean as your gym may be it is still filled with germs from other gym goers. When you are outside you have the benefit of breathing in clean, fresh air.
Make it social: It is a lot easier to make fitness social outside than it is at the gym. Get your friends together for a swim trip at the beach, or try playing a team sport together.
Save money: Gym memberships are expensive, but it doesn't cost anything to exercise outside. Just grab your best tennis shoes and spend a few hours moving around outside and give your wallet a seasonal break from the gym.
There are all sorts of places around your home area where you can enjoy a great outdoors workout. The beach is a great destination for walking that will take you over the bridges for a nice challenge. Try taking a nice long walk or bike ride along the beach or go hiking through the Arboretum & Gardens.
Now is a great time to get outside and enjoy the weather. Don't let spring pass by without taking in the cool breeze and warm sunshine. Once your weight loss surgeon says you are okay to start exercising again, get outside and give it your best!