C-Arm for LapBand Fills

in our office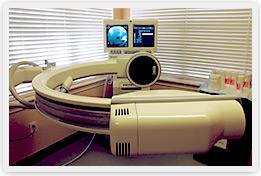 ACCURATE LAPBAND ADJUSTMENTS:
The C-arm device is a video x-ray fluoroscopy-guided tool. It assists us to more accurately and scientifically perform your LapBand adjustments. LapBand adjustments are an important component of successful weight loss and the more accurate we can be the better the weight loss result. We also use the C-arm to teach you how to change eating habits to suit your surgery.
In addition to finding the optimal fill for you, the C-arm can evaluate the band position and pouch anatomy. The device also examines for any abnormalities that may have developed, such as a hiatal hernia, esophageal dilation or other complications. The C-arm also makes it possible to more easily access difficult ports, making the adjustment process quicker and more comfortable.
DIAGNOSING PROBLEMS AFTER ANY WEIGHT LOSS SURGERY:
If you think there may be a problem with your bariatric surgery, the C-arm is an excellent tool to determine if you have complications related to ALL of the weight loss surgeries. We also use the C-arm for intragastric balloon placement and to diagnose GERD or acid reflux/heartburn.
SUCCESS STORIES
From Dr. Robert Cywes's Blog
Weight Loss Testimonials and Tips