Florida Fitness: Weight Loss Workouts in the Sunshine State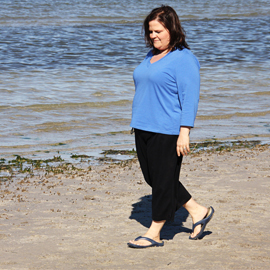 If you've had JSAPA Weight Loss Surgery, you have a distinct advantage over your peers up north: the beautiful Florida weather. With water everywhere and a climate that makes outdoor exercise possible year round, Florida has many workout opportunities that our landlocked northern neighbors lack, so take advantage of them!
There are many benefits of exercising in Florida's great outdoors, but one is perhaps the most important: having fun. When you do an exercise you enjoy, you'll be compelled to come back for more. With time, you may find that these active pursuits don't feel like exercise at all—they can become hobbies that you would want to devote time to even if they didn't help you burn calories.
Obesity may have previously put many of Florida's exciting outdoor activities out of reach, but now is the perfect time to explore them in depth. As you become more active after bariatric surgery, spend some time having authentic Florida fun by:
Hitting the beach. Even if the water's too cold for a swim, there are countless ways to get active at the beach. A walk down any of the sandy beaches can be the perfect way to unwind after a long day, or you can cover ground faster by bringing a beach cruiser. If you've got a group with you, try staying in motion with a game like bocce ball, volleyball or horseshoes, or build a sandcastle with the kids.
Kayaking. From the gentle waters of rivers, lakes, dams, ponds to the surging waves of the Atlantic Ocean, there are places to paddle all over Florida. Kayaking is a great low-impact workout, but it's also an excellent way to get a look at the beautiful areas that surround our city. If you're new to kayaking, try getting acquainted with a guided tour from a local kayak company like First Coast Outfitters.
Paddleboarding. If you're not ready to try surfing, give this gentler board sport a try. Stand-up paddleboarding (SUP) will put you on top of a massive board (usually about 12 feet) with a long, one-sided paddle to get you moving. Like kayaking, SUP can be a leisurely way to take a tour of any of the many waterways of Florida and get a great workout in the process, but be sure to take a tour or class if you need help grasping the basics.
All of these outdoor activities can be much more fun that spending an hour on the treadmill, but remember to always ask your bariatric surgeon before adding a new workout to your routine. What other workouts have helped you have some Florida fun after bariatric surgery at JSAPA? Tell us your favorites in the comments!