Linda: LAP-BAND Success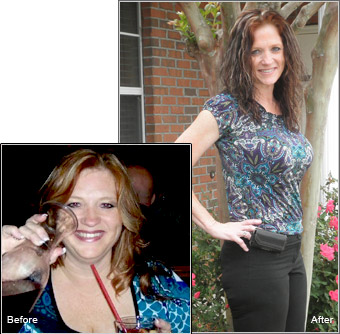 I was at another weight loss center purchasing some protein drinks and I was so discouraged because I had never been as big as I had gotten. I had developed a thyroid disease called Hoshimotis I went from 146 to 240 in a matter of months. My weight had finally settled at a whopping 242 and I stayed that weight for approximately 7 years.
I was so miserable, I had become a closet eater. I was always an outgoing person but my weight had become a struggle. I always cracked jokes about me being the fat lady at the office and that if I continued getting bigger my boss would have to cut in larger doors for me to walk through. That was my way of dealing with my weight problem. Back to me purchasing protein drinks, I had done a lot of research on weight loss surgeries. I discovered the LAP-BAND and I found a few web sites that offered the LAP-BAND surgery in Mexico, so I was telling someone how I was going to head to Mexico on July 4th, that was going to be my Independence day. I was finally going to do something for myself. My friend was so worried about me going to Mexico. He had heard of so many people doing that and either dying or having to come back here and not finding a doctor that would fill the band. So he asked me to come meet his Doctor during one of his follow up visits.
I went into the office with him and was involved with his visit and he explained my situation to Dr. Cywes and once I met Dr. Cywes he explained everything to me. He was so wonderful. When you are in the room with the good doctor he spends time with you and he acts like the day is about you and he isn't worried about pushing you in and out of the visit. He truly cares about you and your success. He is such a good doctor. Dr. Cywes set me up an appointment for me to come in and speak to him on a one on one basis. After meeting with him, I went through the group meeting where he and all the others in the room with me made me realize I had made the right decision not go to Mexico. Financially I wasn't sure how I was going to pay for this, but I knew if it was a new shirt or a new pair of shoes I would have found a way. Although thousands of dollars later was a new shirt or pair of shoes, but just think how many new shirts and new shoes I would want to buy due to my success.
I truly think paying cash for this procedure made me realize the extreme I was willing to go through to keep the weight off. The band wasn't a way for me to eat whatever I wanted just in smaller portions it was a way for me to change my eating life style.
If you would like to share your weight loss story contact Kristi Anderson at Kristi@jsapa.com.