Karla: LAP-BAND Success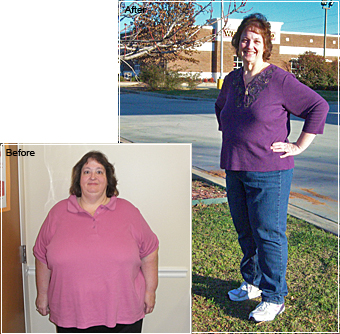 My name is Karla and I have been overweight my entire life. I had tried everything from food diaries to Weight Watchers and nothing worked. Just figured that is how it was supposed to be. I hated looking at myself in the mirror and refused to have my picture taken. It got so bad I even quit going to my doctor when I was sick because he would have to examine me and I couldn't stand him looking at me.
But as time went on I started having some medical issues and was forced to go see my doctor. I was diagnosed with sleep apnea, high blood pressure and arthritis in both knees. I had to do something, so I talked to my doctor and he referred me to About Dr. Cywes. I started the Lap Band process in June of 2011. I went in not really thinking I could lose weight, but figured if I could lose 10-20 pounds it would be worth it.
I had my surgery September 15, 2011. I live in Valdosta, Ga., so I go to the Valdosta office and had the privilege of having Dan and Val as my "encouragers". With their help, the support of my family, and God I felt like I could do anything. I have lost 180 pounds so far and even though I still have a ways to go. I know with the Lords guidance and the support of my friends and family I will get to where I need to be. More importantly, through all of this I have learned that I will never go back to being that person again.