Scott: LAP-BAND Success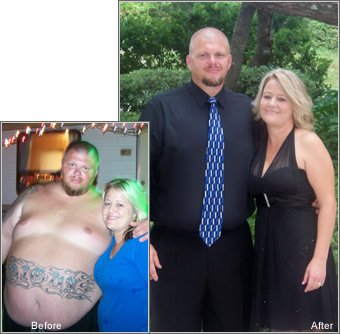 Diary of a Sexy Fatman
Miserable. This word is used a lot these days but few people truly know the meaning of the word. Some folks might even say I didn't have any reason to feel that way, because after all, I had a beautiful family, good job, decent place to lay my head at night, and everything else I needed to live a happy life.
My problem was food and my lack of concern for the fact that it was slowly killing me. At my house, like many others, we celebrate with food, but I also used it as a crutch when I became unhappy. My story is the same as every other person who has ever been overweight. I tried every diet out there, some with decent success, but in the end I still ended up weighing in excess of 420 lbs! Arthritis runs in my family, and at the age of 37, both of knees were constantly hurting. The excess weight I was carrying around made it much worse. The orthopedic doctor told me he would not even consider knee replacement surgery because of my obesity.
After years of fighting and appealing my insurance company about weight loss surgery, both my wife and I were at our wits end. I was taking a ridiculous amount of anti-inflammatory and pain medication every day to try and function normally and make a living for my family. Most of the time I am a very happy person, always cracking jokes and having fun, but sometimes I would just sit and cry and contemplate suicide. I am ashamed to admit that, but I was truly miserable! The time had come in my life where it was "do or die", literally! My wife, who has been with me since high school, decided that the time was now because my depression and pain was making me impossible to live with. I had been trying to get gastric bypass for years, luckily, with no success. That's when we heard about "Lap-Band". After going to the seminar, we decided that was a much safer and feasible route to take. As the old saying goes, we had to "beg, borrow, and steal" to pay for the surgery, but it was the best money I've ever spent. We make a monthly payment that we refer to as the "LIFE" payment.
My experience with Dr. Cywes has been interesting to say the least. I am a very direct and to the point type of person and he is no different! People sometimes don't like to hear the truth about themselves and sometimes that is what we need to help us break old habits and establish a healthier lifestyle. The surgery is not a "magic pill" or a "cure all" for weight loss, it is simply a tool to help a person reach a realistic goal. Diet, exercise, and COMPLETE CHANGE OF HABITS ARE A NECESSITY FOR SUCCESS! The entire way you do things has to change, PERIOD!
Here I am today, a little over a year after surgery, and my weight loss is more than 150lbs. I have gone from a size 54/56 pants to a size 38. It has been a rough battle that was fought every day! Avoiding foods with carbohydrates, exercising daily, and keeping the mind where it needs to be for success is a definite challenge. My wife, kids, Dr. Cywes, and all those people who say "Wow, you've lost a lot of weight", help to stay in the fight!
I now find myself doing things I could not have even thought about trying a couple years ago. Also, I know I'll be around to see my kids grow up and get old with my bride! I also find myself trying to help other people who need help with their weight. Two people I work with have already had the surgery and a few more are considering it. I feel like I have been given a second chance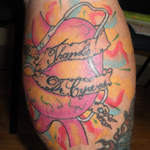 to get it right and want to scream it from a rooftop!
I recently told Dr. Cywes he saved my life and truly feel that way. The words "Thank You" sometimes don't seem to be enough to express gratitude to someone who has done something so wonderful for you, so I decided a tattoo would be better!
Thanks Dr. Cywes!