Patti B: LAP-BAND Success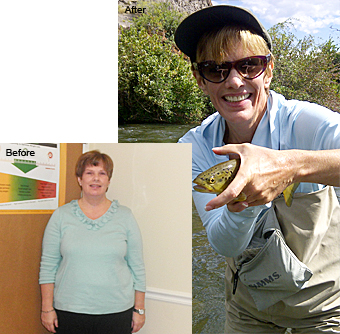 I have struggled with my weight almost all of my adult life. I'd manage to lose weight, keep it off for maybe a month, and then gain it all back. I've tried most of the weight loss programs we all know — including hypnosis. I was having dinner with friends one night and mentioned that I was thinking about having lap band surgery. My friend knew of About Dr. Cywes and recommended I go and talk with him. That recommendation changed my life!
My surgery was in November 2011 — the Monday before Thanksgiving. I purposely scheduled it that way because I knew if I could get through the holidays that first year, I could accomplish anything. Eating high protein/low carb has been a tremendous blessing. There isn't any weighing, counting or writing down. I know what I want to eat and eat it until I'm satisfied. Food has become fuel for my body, not just empty calories with no nutritional purpose. I've lost about 90 pounds and recently had surgery to remove just over 4 pounds of excess skin.
I am now an athlete! I work out with a trainer twice a week, regularly attend spinning class and will be learning how to ski this winter. My life has changed dramatically thanks to the direction I've been given by Dr. Cywes and his team.