Karen: LAP-BAND Success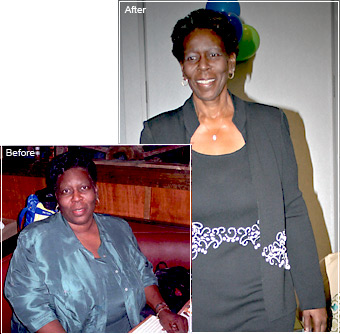 I can truly say that I have, or should I say that I did have a weight problem all of my life. I can remember being teased as a child about being bigger than the other children, this continued through high school and throughout college. During my college years, I was introduced to prescription weight loss drugs that helped me to lose a large amount of weight. Needless to say, the weight returned. After marriage and three sons my weight ballooned to 355.5 pounds. I tried everything, every weight loss program I could find, only to lose no more than 50 pounds. You name it I've tried it.
One of my goals at that time was to walk a 5k. I was told by several doctors that I would need a knee replacement and an Achilles tendon repair and walking was out of the question.
In 2005 I began attending JSAPA Weight Loss Surgery information seminars. After being convinced that bypass sugary was not for me, I began attending LAP-BAND® seminars. In February of 2006 I walked in to Jacksonville Weight Loss Center and right then my life changed. After speaking with Dr. Cywes and his staff, I knew this was the place for me. I completed the six month weight loss program, only to be turned downed by my insurance company. With encouragement of Dr. Cywes and his staff, I continued my journey towards a weight loss solution.
In March 2007, the insurance company changed their policy on LAP-BAND® surgery and my procedure was performed on April 30, 2007. I now celebrate April 30 as my new re-birth. My total weight loss to date is 158 pounds and I went from a size 26-28 dress size to a 12-14.
I can't tell you how much my life has changed. I have a new confidence, and I discover almost weekly something new or hidden about myself. I know that the band is a tool and not a cure for obesity.
For me, weight loss has been a lifestyle change and the band helps me keep myself in check. Since having my surgery, I have completed four 5k's! How about that!! I made it and can walk a 5k! That accomplishment has been incredible for me.
I can always count on Dr. Cywes and his staff for emotional, physical and moral support. I can never express my gratitude to Dr. Cywes his staff and the weight loss support groups. I will NEVER go back to that old weight again!
My journey continues…