Get Fit at Home after Weight Loss Surgery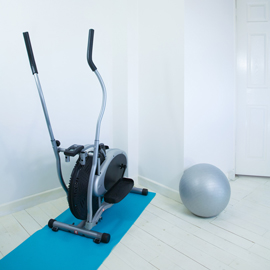 JSAPA Weight Loss Surgery will help you lose weight, but it will be hard to keep it off without regular exercise. We need to work out consistently to build strength and maintain a body free of excess weight, and this is why it's so important to dedicate yourself to fitness after weight loss surgery.
A gym membership can help, but it isn't always easy to make it to the gym. When you're feeling unmotivated or the weather gets dicey, you may feel inclined to stay home—but what if you could get a good workout anyway?
You can, and it won't take much money or space to do so. A personal gym can be a valuable addition to your home after weight loss surgery and can make exercise easy and accessible. Here's how to start building yours:
Find a Spot
You may already have a space in mind for your home gym. Maybe you have a spare bedroom or attic that's currently underutilized, or a bit of extra room in your basement, garage or den. Any of these areas will work –you won't need much more than six square feet of space to build a worthwhile gym.
However, there are certain attributes that will make one area preferable to another. If possible, you should be able to devote your gym space exclusively to the purpose of exercise. Leaving your equipment set up at all times will make it much easier to slip into your gym for a quick workout whenever downtime permits it. If this will be impossible, space-saving storage solutions and tools like furniture sliders can help you create a quick-converting gym in an otherwise occupied area.
You should also pay attention to:
Atmosphere. Stuffy air and dim lighting will not help you get invigorated for a workout. If you can, you should include a window in your gym, but plants, lights and mirrors can help you make the most of a space that lacks fresh air and openness. A fresh coat of paint can also do wonders for a dull room.
Wiring. Without outlets, your workout tools will be limited—you won't be able to listen to a stereo, use electrical exercise machines or plug in a TV to watch fitness DVDs. Think about the number of outlets you may need and plan accordingly.
Fill It Up
After you know where your gym is going, think about what will be going in it. If you already have a home workout you enjoy, your gym is now the perfect place to do it, but you may want to invest in a few new pieces of equipment as well.
If you'll use them frequently enough to justify the expense, pricier fitness machines like treadmills, exercise bikes, ellipticals and weight benches can be excellent additions to your gym. However, don't fret if your budget is too tight for one of these investments—you can still get a great workout with relatively cheap gear like:
A yoga mat
A stability ball
Barbells (preferably adjustable)
Resistance bands
Combined, these simple tools can help you get an all-around great workout without a trek to the gym, but what matters most is that you use them. Once you have your home gym all set up, you'll need to use it frequently to make it worth it. Spend time not only exercising in your gym, but continually improving it as well.
Has a home gym helped you get fit after bariatric surgery in Valdosta or Jacksonville? Tell us about your gym in the comments below!