Get a Group Workout after Weightloss Surgery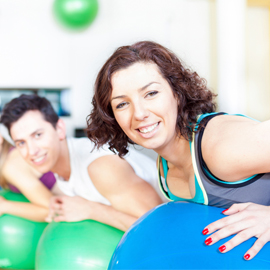 GROUP WORKOUTS:
Let's take a look at two different ways you can approach exercise after weightloss surgery using group workout sessions. Check out CROSSFIT – a great group workout concept offering NO CARBS, group exercise and a new cultural identity for you.
In the first scenario, you arrive at the gym alone, ready to diligently complete your scheduled 30-minute workout. You pop in your headphones and hop on the treadmill, sweating through your session in solitude. After 20 minutes, it's time to lift free weights for 10 minutes, and then you're headed home. You've made it through the bare minimum, but you didn't push yourself or have much fun in the process.
In the second scenario, you meet a friend at a yoga studio. You chat with your new teacher and a few other students, and then it's time for class to start. Your teacher walks you through poses that flex muscles you didn't even know you had. Whether you manage to hold the poses or not, your teacher and the other students are there to encourage you. 30 minutes later, you leave feeling physically and mentally invigorated. Your friend says that by next week's class, she'll have practiced enough to do these poses so much better, and you feel driven to do the same.
This second scenario shows just how beneficial group workouts can be after Lap Band surgery. We can get more out of working out with others because:
We feel motivated to do as well as other people, even if we aren't in an actual competition.
We can learn from fitter people and tend to work harder when we exercise with them.
We have more fun in social situations, which can help us stay motivated.
Regardless of how you exercise, doing it with more people can give you better results. Even if you don't have many fitness-minded friends, there are plenty of ways to find a group to exercise with. Yoga is a great group workout, but if that isn't your cup of tea, you can:
Sign up for an adult sports league
Go on a canoe, kayak or bike tour
Attend a dance or aerobics class
Find other exercisers in your local area on meetup.com
If you spend enough time on group activities after weightloss surgery, you may find yourself quickly becoming friends with other members of your groups, and this can help you stay even more motivated to exercise. When exercise becomes more social and fun, you'll have no trouble getting yourself to do it, and this will make it much easier to make big strides towards your goals.