Gabby: LAP-BAND Success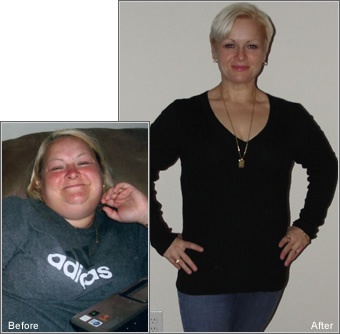 My name is Gabby and I'm 35 years old. I started putting on weight as a teen, by the time I was 19 years old I weighed 290lbs. I struggled with my weight for so many years. I was always the fat friend or the fat sister. I married at 20 and struggled with infertility for 8 years due to my weight. In 2003 I had twin girls and my weight climbed up to 300 lbs. I was able to get down to 260 after having my twins. My weight went back up to 280 after a few years. I had a very hard time keeping up with my twins being 280lbs. I had struggled for so long to have my twins and could not even really enjoy spending time with them at 280lbs.
The day I said no more, I was at the doctor's office and my blood pressure was 165/110, and was told I would need to go on high blood pressure meds. That was it for me!! I was not going on high blood pressure meds. I was no longer going to let this weight keep taking over my LIFE! I left the doctor's office that day went home and cried, then looked into JSAPA Weight Loss Surgery.
I found Dr. Cywes in Aug 2008 and never looked back! With the help and support of my amazing husband I got my Lap-Band® on 1-15-2009 and that was the first day of my new life! I did everything Dr. Cywes said and the weight just fell off! I have lost 130lb! I love my Lap-Band® and I love my new life! I love that I went from a size 22-24 pants to a size 6 pants! I love that after 15 years of marriage I weigh less than my husband! I love that I can cross my legs! I love that now my twins have to try and keep up with me! I LOVE MY LAP-BAND®!!
Thank you Dr. Cywes! You did not just give and fill my Lap-Band®, you gave me a new and happier life and you filled my mind and heart with the words of encouragement, motivation, strength and support I needed on this weight loss journey! I think there are only a few people that touch your life and for me one of them is Dr. Cywes!!