Save Time: Quick Cooking Tips for Bariatric Surgery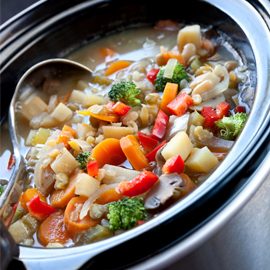 Time can start to feel scarce by the end of the day. Even when you leave the pressures of the office behind you, there may be a million more responsibilities competing for your attention: your dog needs a walk, your house needs to be cleaned, your son needs help with his book report and somewhere in your hectic to do list you need to find time to make dinner.
Lack of time may be the most common excuse for skipping a healthy meal, but you don't have the option of grabbing a bite from the drive thru now that you've had JSAPA Weight Loss Surgery. Healthy cooking will need to become an essential part of your life, and this can be a challenge if you don't have time to spare. Fortunately, there are many ways to quicken your cooking process without making meals less nutritious.
Ready to cook healthy meals in a jiffy after bariatric surgery? Get started by:
Making your kitchen as functional as possible. Organizing your cooking space will take a bit of time now, but can save you hours in the long run. Rake through your cabinets and drawers, making your most used utensils the easiest to access. Similar items should be kept together in a place close to where they'll be used; rarely used items should be placed in a storage area somewhere out of the way.
Planning ahead. If you spend 20 minutes fumbling for the perfect recipe before you even set yourself to cooking, it's time to revamp your process. Start each week by considering what you'll make for dinner every night, then head to the store for a single grocery run and grab everything you'll need for the week's meals. When you know time will be of the essence, it may be best to use prepackaged ingredients—frozen and canned foods can sometimes be less nutritious than their fresher alternatives, but will simplify cooking considerably. Just be sure to check out the nutrition label to be sure these foods mesh with your bariatric surgeon's guidelines.
Trying out technology. The modern kitchen can have many appliances that make cooking dramatically easier. A crock pot is the time-sensitive chef's ultimate tool—by throwing the ingredients for a healthy slow-cooked meal into a crock pot in the morning, you can come home in the evening to the delicious smells of a finished meal. A microwave and a food processor can also help you cook more efficiently.
The added responsibilities of bariatric surgery can make you feel short on time, but don't let that keep you from cooking the meals your body needs.