Cheri: Vertical Sleeve Success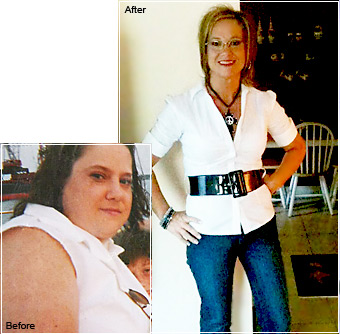 "Seeing Is Believing!"
At the age of 23 and a few months after the birth of my second child, I unexpectedly had to have a total hysterectomy. This is when I began to gain the largest part of my weight. I was weighing approximately 200 pounds and I began having headaches. So I decided to get my eyes examined. That is when my world turned upside down.
I was diagnosed with Intracranial Hypertension & Psuedotumor Cerebri, (high fluid buildup in the brain and a false tumor in the optic nerves of my eyes). I was sent directly from there to have the first of many spinal taps, to relieve the pressure in my brain. The headache subsided, for a little while. At that time, my Neurologist said that "most" (not all) cases were from being overweight! That moment began my "unsuccessful" journey of dieting. After I turned 40, I began having more issues with my vision, thinking that it was just simply age related; I again went to have my eyes examined again, only to find out that I had lost approximately 75% of the vision in my Left eye. I had another spinal tap, with no relief or visual improvements what so ever! Something HAD to be done!
At this point I had been taking several medications to help control my blood pressure and the "brain-pain" which were supposed to make me lose weight… (NOT!) The next option was to have a Shunt inserted in my brain… this was NOT something that I was ready to have done. I started doing research about weight loss surgeries and signed up for one of the seminars with Dr. Cywes. I weighed out my options, did my research, and ultimately found the BEST doctor that I could have hoped for. Thus, My "Journey" to Success began! During one of my evaluations, I was asked why I wanted to have surgery, and my answer was not because I wanted to be smaller or look "sexy"… I simply WANTED to be Healthy and to literally "SEE" my grandchildren grow up! Dr. Cywes and his Team have helped me to Achieve Success and allow me to SEE how successful this program truly is!
I had the Vertical Sleeve surgery done in October 2010. When I started the program, I weighed in at 222 pounds wearing a size 20/22. I am now maintaining my weight at 140 pounds and now wear an average size 5, since April 2011. I no longer take ANY of my medications and I am 95% Symptom Free from my IH/PTC.
To Dr. Cywes and The Entire Team, I owe My Deepest and Greatest Appreciation for the opportunity to "See" and Share My Success!