Veronica: LAP-BAND Success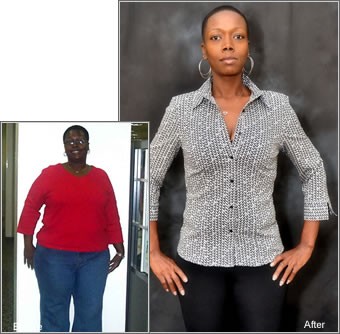 At the time I was seeking help, I was a 36-year-old morbidly obese single mother of two boys. I had multiple co-morbidities. My obesity started with my first pregnancy. At the beginning of my pregnancy I weigh approximately 180 pounds and at my height was still considered to be overweight. By the time I delivered my first child, I weighed 263 pounds. I only lost 20 lbs. after delivery. I began working part-time four months for a Supermarket, which helped to decease my weight another 20 pounds. I didn't have my second pregnancy until 3 years later. Just like my first pregnancy I went back to 263 and skyrocketed to 283 by delivery time. Same as the first I lost 20 pounds after delivery. I can recall being tested for diabetes and thyroids, which was negative. I thank GOD for that .I have stayed at 263 or more for 16 years.
On April 7, 2005, while working I was feeling fatigue and had radiating pain in the back of my neck that would not go away. I went to the Fire Station near by to have my blood pressure taking and to my surprise it was 182/90. I've never suffered from hypertension, but they assured me that I needed to be seen right away. So, I went to the ER. Besides suffering from severe acid reflux, I had lower back pain, pain in my neck, insomnia, a heart murmur and depression. I could then add hypertension, which makes me a very good candidate for this surgery. My BMI was over 44.
In my 16 years of this obesity battle, I have had memberships with Gold's Gym, Powerhouse, and YMCA. I have tried Herbal Life, Weight Watchers, and A Perfect You dietary programs. I have taken prescriptions Meridia and Adipex. I have taken over-the-counter drugs like Trim-Spa, Apple-Cider, Relcor, Green-Tea, Slim-fast, and Grapefruit Diet. I have tried all of this with some success, but no long-term achievement.
I had my surgery May 27, 2006. Here I am 2 years later and 130 pounds lighter. I've never felt better in my life. I love my new life style. I love sharing my experience with anyone that I come in contact with. The Lap-Band has been one the best choices I've made in my life. I feel without it, I wouldn't have a life. I can't stress my appreciation to Dr. Cywes and staff.