Steve: LAP-BAND Success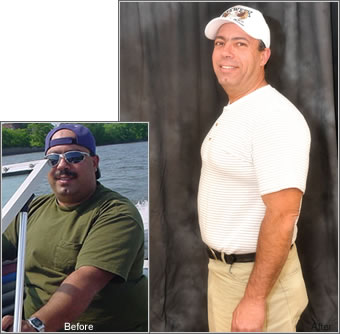 I have struggled with my weight most of my adult years. After quitting smoking in the early 90's, I have gained and lost more weight than I care to think about. I tried many diets only to gain back more weight than I lost. After having severe sleep apnea, high blood pressure and trouble bending over to tie my shoes, I decided to do something about it. My sleep apnea doctor recommended that I contact Dr. Cywes to see about getting the Lap Band.
Everyone at Jacksonville Weight Loss were very helpful and knowledgeable in my weight loss journey. My weight was about 275 pounds when I first went to Jacksonville Weight loss in the spring of 2007. I had my surgery on July 20th 2007 and lost nearly 90 pounds within about 9 months. I am maintaining my weight in the mid 180's and no longer have high blood pressure or severe sleep apnea. I do still have mild sleep apnea, but that will probably never go away. I go to the gym 3 days a week, walk and occasional run. I feel better now than I can ever remember.