Gus: LAP-BAND Success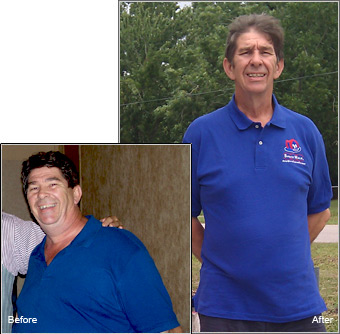 Over a year ago in June 2010 my family practice doctor told me if I did not lose 100 pounds, I was a heart attack waiting to happen. He put in a referral to Jacksonville Weight Loss Center.
For many years I struggled with managing my eating habits. My business was stressful and I was on the road a lot, we even named a meal for me, the 321. It included a Double Burger, Chicken Sandwich and a Sweet Tea and cost $3.21. I was a stress eater and never paid attention to what passed my lips.
I could not walk past food without taking a sample bite or two. I often bought things I knew were not good for me, but they made me feel good. Of course, I had to wash it all down with something sweet. I had the tomorrow syndrome; "I will start tomorrow losing weight", but tomorrow never gets here.
I always joked that I wanted to die happy, not healthy. Then one day as I was thinking about my family and looking at the signature line on my emails. "What do You Want to Celebrate?" It was then I realized that being healthy was being happy. I decided to attend one of the seminars at Memorial Hospital.
I decided to follow up with an appointment with Dr. Cywes. The approach he uses is not in line with what I have been told for years, which is to eat less and exercise more. At 358 pounds exercise was not in my daily ritual. He actually explained to me why I was fat.
After my session with their nutritionist, KaLoni, I immediately started following the 30 carbs a day guidelines. With the help of a smart phone app called Calorie Counter from www.fatsecret.com, I was able to keep track of everything I ate.
By the day of my surgery I was down to 292 pounds and I felt great. I was very lucky on the recovery side of the surgery and suffered almost no side effects and was back to work within a few days.
A couple of months later, I was always feeling tired and could not figure out why. After an appointment with Dr. Cywes and a follow up with my regular doctor, I was taken off my blood pressure medicine which was such a great reward.
At my last appointment, I weighed in at 225 (over 130 pounds lost in 1 year), something I have not seen for years and I felt very proud of myself. Last month I was at our annual company meeting and had people that have known me for years, walk by and pause with the deer in the headlights look. They did not recognize me and was amazed at the transformation in my life.
I now am happy to be able to shop for normal clothes and have gone from a xxxl to a xl. I dropped from a 52" waist to a 40" waist and still have to tighten the belt. Recently I heard that the drop in McDonald's stocks was attributed in part to this surgery.
Continuing with the follow-ups and support group meetings and the help of my family has made this a life changing decision for me. It only took me to get this way, but it is taking a lot to get me to a good place in life.
I encourage anyone that has the desire to lose weight, get their health back, and feel good about their life, to reach out and use the help that is offered by the staff at Jacksonville Weight Loss Center.
If you would like to share your weight loss story contact Kristi Anderson at Kristi@jsapa.com.