Gail – Miss September: LAP-BAND Success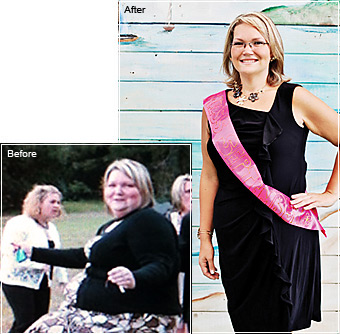 Achieving Goals and Inspiring Others
My journey begins May of 2009. I work as a Police Dispatcher and got really sick at work one night. I could not breathe. It scared some of my colleagues. They took me over to Fire Station 16 to get checked out by the paramedics. Long story short, my parents came to pick me up, and we ended up at the ER. Tests were done, but they could not seem to find a problem. They sent me home with an inhaler.
I followed up with my primary care doctor a few times who continued making me go through all kinds of tests. The last time I went to my primary doctor he said that the only thing he could come up with is that my weight was causing me to have these problems. He said, "I would really recommend you having the Lap Band Surgery." I immediately said, "NO! I am not having surgery!" He said that it is a safe surgery and since I have struggled with my weight my whole life, this would be the best thing for me.
I left there very upset. I knew the reality of it was that my weight was a problem, but still, no one likes to be told that. So I began to do my own research on the Lap Band Procedure. I spent hours upon hours on the Internet. I came across people's personal blogs that told the story from day one of their surgery. The first one I came across was a girl named Amy. Immediately I realized we were so much alike. If she could do the procedure and be successful so could I. She inspired me. I also had the benefit of talking one-on-one with two co-workers who also had the procedure done.
On June 15, 2009 I went to a small group seminar at Jacksonville Weight Loss Center. I took Mom of course. We were both really impressed. After a month of praying and talking with my family and close friends I was fortunate enough to make my first appointment. My mom said she never gave up praying; she knew something great would happen if it was meant to be, and it did.
Exactly a month later on July 15, 2009, I had my first appointment. My surgery date was set. August 11, 2009 would be the day. Surgery was successful and not nearly as bad as I had anticipated.
After surgery I was very involved with the Practice. My journey consisted of: seeing Dr. Cywes every month for a follow-up appointment, meeting with a personal trainer twice a week, small group counseling once a week, and several visits to the nutritionist. I quickly learned it takes the whole package to be successful. It's definitely not a quick fix, but it's a lifestyle change.
All this leads me to today. I realize many people view the Lap Band as an easy way out. However, I feel that anyone who has that opinion hasn't struggled with the same demons that an overweight person has. I have my family's support, which first and foremost is the number one thing that matters. After that, I have a huge support group of friends who back me and continue to motivate me.
Some people say, "Thanks, to Dr. C, for giving me my life back." I say, "Thanks, to Dr. C, for giving me a life!" I was overweight my whole life. After many failed attempts to lose weight and keep it off I am no longer the fat friend that the guys want to be friends with because they want to date my friends. They actually want to date me now. I no longer hear "you have such a beautiful face." I hear, "Gail, you look beautiful." Did I mention, I have not been this size since the fifth grade!
My accomplishments are endless since surgery. My first celebration was jumping out of an airplane when I lost 100 pounds. When it comes to being a passenger on a plane, I no longer have to ask for a seatbelt extender when I fly. I can fit in roller coasters. I am living a whole new life. I have gained so much confidence.
Over the past two years I have gone from being my highest weight of 343 to losing 152 pounds. That's a whole person! I went from a size 30 to 14. I can actually walk to my desk at work from the parking garage without feeling like I am going to die from not being able to breath. I have done five- 5Ks, finished the Gate River Run, and competed in the Fight For Air Bank of America stair climb 838 steps, 42 stories. I continue with my trainer and working out. I have such a newfound enjoyment for exercise and staying active.
I still see Dr. C every month because it is accountability. He challenges me every time I see him. He has such a heart for his patients. I am honored to be one. I cannot thank the staff of Jacksonville Weight Loss enough. This place and its people will always have such a special place in my heart.
If you would like to share your weight loss story contact Kristi Anderson at Kristi@jsapa.com.