Kathy: LAP-BAND Success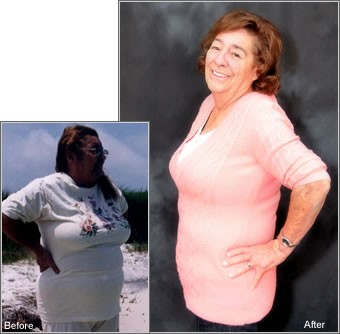 My name is Kathy and this is a story about how I got my life back.
Let me start by explaining how I reached 275 pounds. Over a six month period, I lost both my brother and husband of 30 years. A few months later, I lost my mother. I went into a deep depression and gained more and more weight. Soon, I couldn't walk very far and had trouble breathing because of all of the weight I had gained.
It wasn't long before I had a heart attack. The doctors had to put three stints into my heart and later conducted open heart surgery to perform six bypasses. And yet, despite my health problems, I continued to gain weight. For the next four years, I was unable to walk and depended upon a wheelchair just to get around.
The straw that broke the camel's back came when I began wearing a CPAP Mask in order to breathe at night when sleeping. When my grandchildren came to my house to spend the night, they cried when I put the mask on. I knew I had to do something.
I talked to my sister who had gone through the Lap-Band procedure. I could see how it changed her life and I wanted to do the same thing. I decided to go see her doctor, Dr. Cywes, about the Lap-Band.
Within two months of my procedure, I was out of the wheelchair. Within six months, I was going back to work. At 60 years old, I am now down to 139 lbs and wearing a size 8-10. This is far from the size 3X that I use to wear.
Like Dr. Cywes told me, I either had to lose weight or lose my life. I wanted my life back and I wanted out of the wheelchair. I learned how to eat right and how to exercise regularly. I also learned that the Lap-Band alone is not the answer. You have to follow the doctor's instructions. And most of all, you have to want to lose the weight.