Cassandra: LAP-BAND Success
Half the Size, Twice the Life!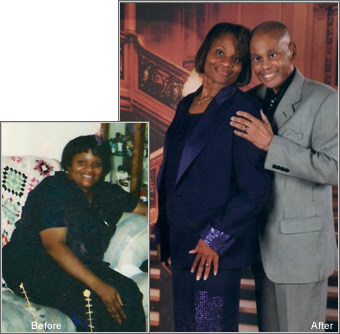 When I think back to February 26, 2009, I was at my highest weight of 235 lbs with a BMI of 50. Half of me was fat! I was digging my own grave with a knife and fork. Now it's my bandiversy, over a year later.  I'm at a Healthy Normal BMI. I weigh 149 lbs.  And I have maintained this weight for the last 3 months since reaching my goal weight in 8 months. I lost a total of 86 lbs.  I'm so proud of myself. Consistency, Commitment, and Compliance from Dr. Cywes and his staff has truly made all the difference.
Dr. Cywes is Awesome!  He is so passionate about the band and is so dedicated. As a patient, he is always there for you.  His Staff are truly wonderful people who are as dedicated to fighting obesity and who will also make the time to talk to you, support you, and encourage you. I look forward to each and every visit.
With Hard Work and Determination, and refusing to Give up or Give in, I've consistently lost weight. The journey is not easy, but it is worthwhile.  My biggest challenge was certainly overcoming bad habits. What most people don't realize is that losing weight is not just a physical battle; it is not just about eating healthy and plenty of exercise, but more importantly the mental and physical habits that you have to break along the way. I had to change the way I thought about food, exercise, and I had to stop caring about what people thought of me and start focusing on myself and what I needed.  I owe it all to re-learning how to eat and re-learning about food.  I've had only two fills my first 4 cc, so I'm at 6 cc in my 8 cc band.  I've transitioned from plus size clothing to size 6-8 misses. On April 3rd, I did my first 5k run of 2010.  I'm no longer Pre-Diabetic. Pre-Hypertension, or have high cholesterol I love my band….It saved my life, it saved me from me!  If I can do it, anybody can do it!
This year I celebrate my one year Anniversary. I'm 46 years old. I will be celebrated my 47 birthday in Mar 28. Happy, Healthy, and Fit!  I'm truly living and Loving Lap-band®.